video installation, photo series
In the dead of night the creatures come out to play, based on associative dream images Creatures of the Night is the Youtube version of my darkest video art installation jet at Wastelands Biker Bar. Introducing Miss Nixx as the enigmatic Miss Hannibal Jackson and her Red Neck Gay Bordello, Nada Monkey as mr Fetish O'Hare, the Trailer Trash Twins, Rubber Gigi's Jar Bar, and the beautiful Dutch Dame, Lily Synesthesia, Ellen Lovebite and Haas & co, enjoy!
Bondage & suspensions by Ropemarks.
Music by Tristesse Contemporaine
video stills from Creatures of the Night
Trailer Trash Party People – video still – 100cm x 27cm
Glam Alley – video still – 100cm x 27cm

the Neon Graveyard – video still – 100cm x 27cm

Black Label – video still – 100cm x 27cm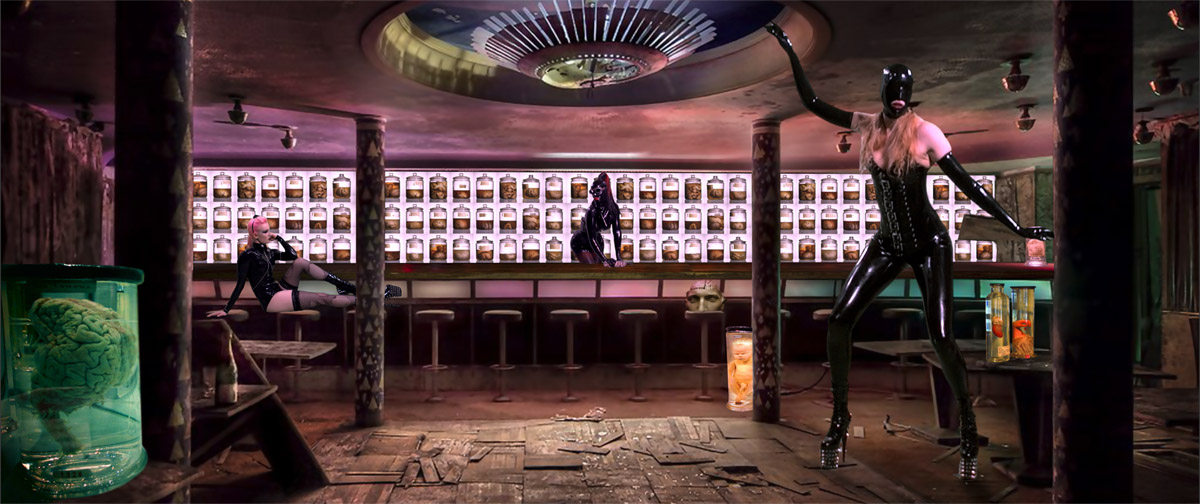 The Jar Bar – video still – 100cm x 42cm

Room nr. 8 – video still – 100cm x 27cm
mr. Fetish O'Hare – video still – 145cm x 27cm

the Kiss – video still – 100cm x 27cm

Louvanimal – video still 100cm x 27cm